CLIK DESIGNER
Let engineers design the most complex products with ease
With CLIK Designer, engineers model a product in terms of its physical and geometrical parameters. Unlike the traditional approach that requires thousands of rules to enforce constraints, CLIK Designer allows engineers to easily write established formulas and functions. Then they apply these formulas and functions to automatically find the optimal product. This customized product simultaneously meets customer requirements and engineering constraints. The Bill of Materials needed to produce the product is generated automatically, making the final design ready for manufacturing in a matter of seconds.
The CLIK Designer application comes with an Integrated Development Environment (IDE) and starter Libraries. Coding experience is not needed and engineers start using the application with minimal training.
With CLIK Designer, the number of rules and constraints can be reduced by a phenomenal 100,000 fold —or more!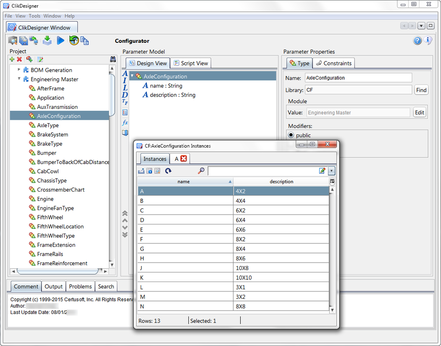 DESIGN WITH CLIK DESIGNER DATA AND MODEL EDITOR.
CLIK Designer is built for design and sales engineers. Unlike traditional systems where even trivial changes in the data model require writing complex software and shutting down the system for installation, CLIK Designer's parameters, constraints, and data evolve continuously, allowing work to continue without any interruption.
CLIK Designer makes use of the unique CLIK® language for expressing complex engineering calculations and constraints in a simple, easy to learn way. Engineers implement and commit changes and production releases without any IT involvement.
COST REDUCTION
Reduce engineering resources needed to model, maintain and verify product data
Reduce IT resources and system interruptions
Reduce material costs with "just-in-time engineering"
REVENUE GENERATION
Shorten the sales cycle from quote to order
Offer higher level of customization and better products
TECHNOLOGICAL FOREFRONT
Customize and optimize without data explosion
Add physical and geometrical constraints without sales codes or parts numbers
Integrate with optimizers for engineering quality and performance
Update data and data models continuously without interrupting sales and engineering operations
Publish and receive data on the cloud for engineering, partners and suppliers
STORE DATA WITH CLIK DESIGNER DISTRIBUTED REPOSITORY.
Unlike traditional engineering and manufacturing systems, CLIK Designer is built for the cloud. A manufacturer, its partners, and its suppliers can develop independent custom data and parametric models for their products and publish them in the cloud with CLIK iDesigner.
WORK INDEPENDENTLY
Each engineer can work independently or as a team. CLIK Designer provides easy-to-use tools to view, compare, audit, and publish any version or any segment of the data.
ALWAYS ONLINE
Software and repository releases can be performed on the fly. They do not require server or system shutdowns, further reducing the need for IT support.
COMPUTE ON THE CLOUD WITH CLIK DESIGNER RUNTIME.
CLIK Runtime is a multi threaded core Certusoft technology that enables real-time optimization while scaling to very complex and large systems when deployed in a cloud computing environment. Different engineering applications, including CLIK-Driveline Optimizer and CLIK Powertrain Optimizer, execute at runtime within CLIK iDesigner.